Registration
New Online Student Registration Process at RJSHS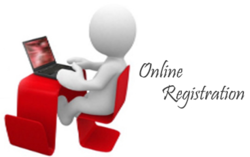 Please Click here for the New Student Registration Form
You will be required to bring a copy of your students' documents to the office.  For example, all parents will need to present a copy of the original birth certificate and other legal documentation (custody orders, etc.) to the school office. If you need to order your child's birth certificate, click on the link to Alberta Services.
Questions? Having trouble registering?
We will be happy to help! Please call the office at 403-843-3761 and ask for Mrs. Johnson
For information on how to use the new the new School Engage Registration. please click here . 
Once your registration form has been completed and submitted you will be contacted by the school to set up an appointment to complete your child's registration.
For specific questions regarding registration please contact;
Mr. Chris Oram- Grades 7-10 at chris.oram@wolfcreek.ab.ca
Mr. Bill Bramfield- Grade 11 at bill.bramfield@wolfcreek.ab.ca
Mr.Tim Lekas- Grade 12 at tim.lekas@wolfcreek.ab.ca
Busing
All busing registrations must be completed online. To register for busing, please CLICK HERE